Carbon Disclosure Project 2011
Green Peninsula has long supported and tracked the progress made by the Carbon Disclosure Project (CDP).  We believe firmly that shareholders in large companies judge performance increasingly on carbon and clean energy.  Our views following the 2010 report are featured here:
" Increasingly, investors are diversifying their portfolios by investing in companies that set industry-wide best practices with regard to sustainability. In the 10 years since the launch of the Carbon Disclosure Project (CDP), the quality and quantity of reporting on climate change have increased dramatically.  CDP contacts major companies worldwide and asks them to report in a standard form on their carbon usage.  The results are then published annually.  In 2003 less than 250 companies responded.  In 2010 the number was over 3,000".
In mid September the CDP issued their 2011 report.  This demonstrates further progress, involving 551 investors with assets of US$71 trillion backing the CDP programme.  This year CDP sent its annual request to the Global 500 companies list.  81% of corporations from the Global 500 responded to the questionnaire, with 97% of those reporting emissions reduction activity.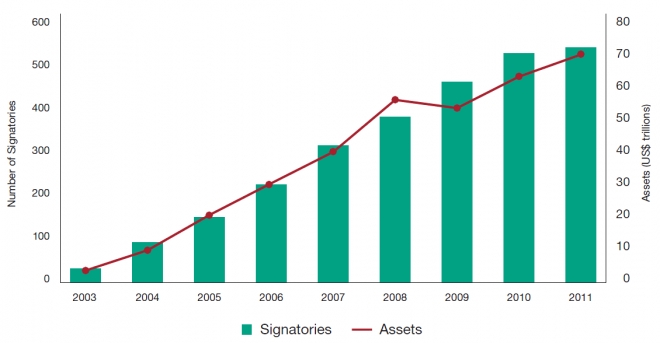 This is clear evidence that carbon and clean energy are increasingly in shareholders' and directors' minds.  As Douglas Flint, HSBC Group Chairman, says in the 2011 CDP report:
"In an uncertain period with pressing concerns about the fate of the global economy, it would be easy – but foolish – to regard climate change as a luxury issue only to be addressed in the good times.  Around the world we are seeing encouraging signs that climate responsive business could drive an investment-led recovery…It is at moments such as these that businesses with a long-term perspective can help shape the contours of the coming revival and thereby accelerate clean and profitable growth".
The best companies in the CDP 'Carbon Performance Leadership Index' since 2005 have shown returns to shareholders approximately double those provided by average companies. Read more here…