Why the world's largest companies are investing in renewable energy
A recent report, released by global investor network CERES and partners, provides details of the targets, progress and motivation behind the Global 100 and US Fortune 100's drive towards reducing their reliance on fossil fuels. Analysis of the most common investment strategies used by the companies reveals that there are a range of options open to those looking to secure the benefits of a more diverse energy supply.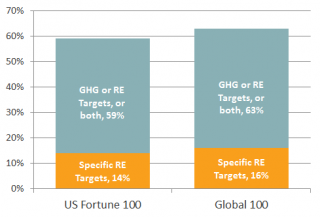 Fifty-nine percent of the US Fortune 100 has set a renewable energy commitment, a GHG emissions reduction commitment or both. Currently 14% of the US Fortune 100 has set a specific renewable energy commitment. These figures change for the Global 100 to nearly two-thirds (63%) and 16% respectively.
The reason that companies are investing in renewable energy is because it makes good business sense: renewable energy helps reduce long-term operating costs, diversify energy supply and hedge against market volatility in traditional fuel markets. It also enables companies to achieve greenhouse gas (GHG) emissions reduction goals and demonstrate leadership on broader corporate sustainability and climate commitments.
The report makes 4 key recommendations for companies:
1. Companies without Greenhouse Gas (GHG) commitments should set time bound targets.
2. Companies with GHG targets should also set renewable energy specific targets.
3. Companies should be transparent in reporting their greenhouse gas emissions and should publicly disclose the proportion of renewable energy they use annually.
4. Companies should identify opportunities to support local, regional and national policies that facilitate renewable energy deployment as this will enable them to meet their climate commitments more readily.
Once targets have been set there are many options for delivering renewable energy to your business. But weighing up their relative benefits can be tough; not least because both external and internal requirements must be considered. Green Peninsula has worked with many worldwide companies and has the experience needed to identify and then deliver the option that will work for your organisation.
For more information e-mail us at contact.us@green-peninsula.com
or call +44 (0)1326 572720